AN EXCELLENT SALAD TO PREVENT SUNSTROKE AND REDUCE BP AND CHOLESTEROL
Mix finely chopped pieces of raw mango and onion together, add chopped green chillies, a dash of rock salt, a pinch of turmeric and red chilli powder, garnish with coriander leaves and serve.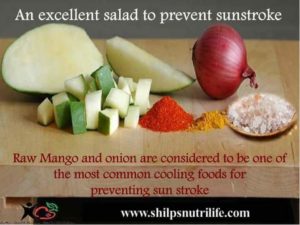 Onion due to its high sulphur content prevents body fevers that can be caused due to sun stroke.Raw Mango is excellent for preventing sun stroke.
Apart from this, raw mango gives vit C and potassium and onion helps in thinning of blood, so this salad also helps to reduce BP and cholesterol.
ENJOY A SALAD WITH DUAL BENEFITS
#eathealthy #sunstroke #shilpsnutrilife #summercold #onions #healthysummer #hydratewell #Sweating #rawmango #bloodpressure #cholesterol #vitaminC #potassium