#Healthysummerdrink
AAM KA PANNA (Green mango juice)
Aam Panna is a rejuvenating and refreshing cooler prepared using raw green mangoes during the hot summer months. Kairi Panha works as a digestive and also serves as an excellent mocktail during parties, as it can be prepared beforehand in large quantities and refrigerated.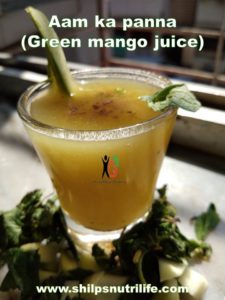 Panna also means 'emerald' in Hindi – probably one of the reasons why this juice gets its name is its light green colour.
Easy recipe to make cooling AAM (kacchi kari) KA PANNA– peel raw mango, chop into big pieces, add water, jaggery, black salt n boil in pressure cooker for one whistle. After cooling blend in a blender,dilute with water, add roasted jeera powder, garnish with mint leaves n serve chilled.
Also a variation which i tried was, added a tbsp of pudina corriander chutney to a glass of panna….it was awasome…do try.