#HealthySummerdrinks
Kokum juice /solkadhi – refreshing summer drink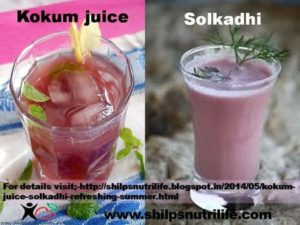 A tangy, refreshing drink made from this purple berry, native to India, is ideal for this sweltering heat. Kokum is low in calories, contains no cholesterol or saturated fats, and is rich in dietary fibre. A powerful antioxidant, it is rich in vitamin C, and contains a fair amount of potassium, manganese and magnesium.
INGREDIENTS (one glass)
Dried kokum rind – 4 to 5
Mint, finely chopped – 1/2 tbsp.
Roasted cumin powder – 1 tsp.
Sugar or jaggery or honey – 1 tsp. (optional)
Black salt – 1/4 tsp.
Water – 1
Ice cubes – 2 (optional)
METHOD OF MAKING
Step 1: Soak the kokum rinds overnight, or in hot water for couple hours, or till they get soft.
Step 2: Once the rinds are soft, squeeze and extract pulp.
Step 3: To the pulp, add chopped mint leaves, water, roasted cumin powder, black salt and sugar.
Step 4: Stir well, and serve chilled.
– Kokum juice is great for the summers, as it reduces body heat, prevents dehydration and cuts risk of sunstroke.
– Can combat digestive problems like flatulence, acidity and constipation
Solkadhi is a type of curry usually had with rice or sometimes drunk after the meals. Popular in the Konkan region of India, it is made from coconut milk and kokum. It's known for it digestive properties. The preparation is prepared by mixing coconut milk with kokum, a little bit of salt and/or chili-garlic paste is added for taste.