Tamarind drink
A crisp concoction of tamarind water & cumin flavored with mint, black salt, chillies & ginger. Each ingredient plays a role – tamarind & mint have cooling properties, cumin & black salt aid in digestion & chillies provide the essential indian kick.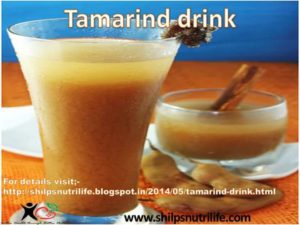 Ingredients & Method
1 cup tamarind pulp
2 tbsp roasted jeera (cumin seeds)
1/4 cup fresh mint leaves
1/4 cup fresh cilantro leaves
1/2 tbsp kala namak
2 tsp red chilli flakes (adjust to taste)
Chopped ginger
5 tbsp granulated sugar
1 cup water
Table salt (to adjust)
5 cups water, cold
To Garnish – crushed ice, boondi, mint leaves (optional)
Blend everything in a blender for 2-3 minutes until you get a smooth but runny paste. Place a colander over a large bowl & sieve the paste through it. Top with 5 cups of water. Adjust the salt.Chill till ready to serve.
Before serving, stir thoroughly, pour into glasses, garnish & serve.