Sprouting methi seeds
As requested by many here is the procedure to sprout methi seed…..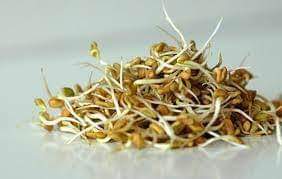 Sprouting the methi seeds is simple.
🍀Take half a cup of dry methi/fenugreek seeds.
🍁Wash well and soak in water for at least 24 to 36 hours.
🌼Drain water completely and transfer the content to a colander.
🍀Cover with wet cloth or you can tie them in a thin muslin cloth and hang in the kitchen.
🍁I used a wet kitchen towel. Keep it aside undisturbed. Make sure you keep the cover moist at all times.
🌼Within a day or two, you will notice small sprouts shooting out. I left it for two days until the sprouts were 1 cm long.
Remember to wash them and drain water completely daily else they can become slimy and give a foul smell.
Keep the sprouts in a airtight box in the refrigerator,easily stays well for a week.
Half cup of dry methi will yield approximately two cups of sprouted methi.
#diabetes #methi #fenugreek #winters #shilpsnutrilife #methisprouts