Drumstick (Moringa) Leaves Paratha
Moringa leaves are an excellent source of many vitamins like A, C and minerals like iron, magnesium. They also have antioxidant and anti-inflammatory effects.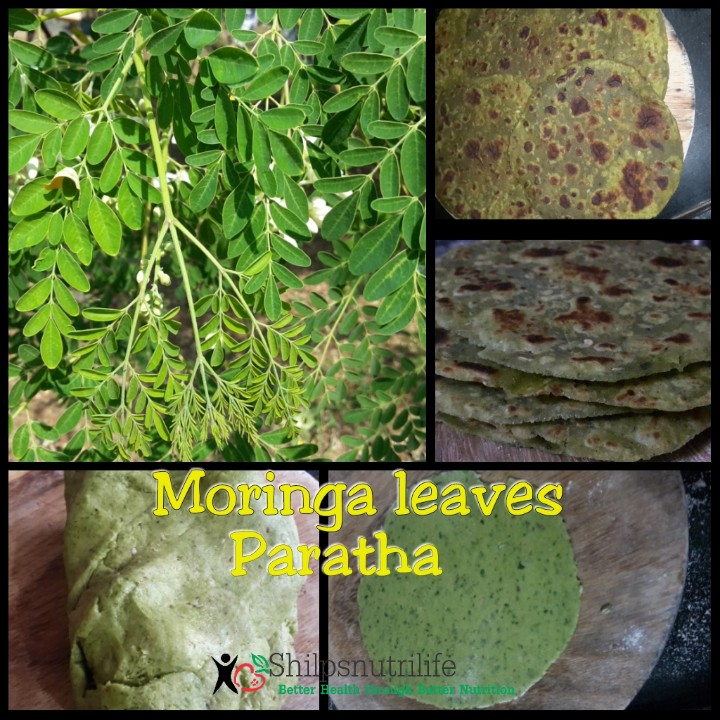 Ingredients
Moringa Leaves/drumstick leaves – 1 cup leaves washed
Corriender leaves a few strands
Green garlic -4-5 strands
Green chilies – 2-3
Wheat flour – 2 cups
Kasuri Methi – 1/2 tbsp.
Coriander powder – 2 tsp
Lemon juice -1tbsp
Turmeric – 1/2 tsp
Garam masala – 1 tsp
Til – 1tsp
Saunf – 1tsp
Salt as per taste
Ghee / Oil– 2-3 tbsp
Water as required for kneading
Method
🌱Grind together drumstick leaves, Corriender, green chilli, green garlic to a fine paste.
🌱In a bowl, mix together wheat, salt, garam masala, turmeric powder, coriander powder, kasuri methi, lemon juice, til and Saunf.
🌱Add moringa leaves paste. Mix well till mixture incorporates well with each other.
🌱Add water if required and knead it into a smooth dough. Cover and keep aside for 15-20 minutes
🌱Divide dough into 8-9 equal parts. Shape them into a smooth ball.
🌱Roll dough ball into a thin roti or circle about (6-7" diameter)
🌱Heat nonstick tava or griddle, drizzle ghee. Spread evenly all over on its surface with rubber spatula.
🌱Place paratha on it. Let it cook till bubbles appear on the top. Cook over medium low flame.
🌱Flip it over and cook until golden brown . Apply some ghee on top
Serve hot with curd, pickle or any subji or curry.