Multigrain (Millet) roti
Millets are very environmentally friendly crops. The millet system can withstand less rain, more heat, reduced water availability, all these challenges, still survive and flourish.
🌾 Millet production is not dependent on the use of synthetic fertilizers. Grown under traditional methods, no millet attracts any pest. Thus, they are a great boon to the agricultural environment.
🌾Millets are amazing in their nutrition content. Each of the millets is three to five times nutritionally superior to rice and wheat in terms of proteins, minerals and vitamins.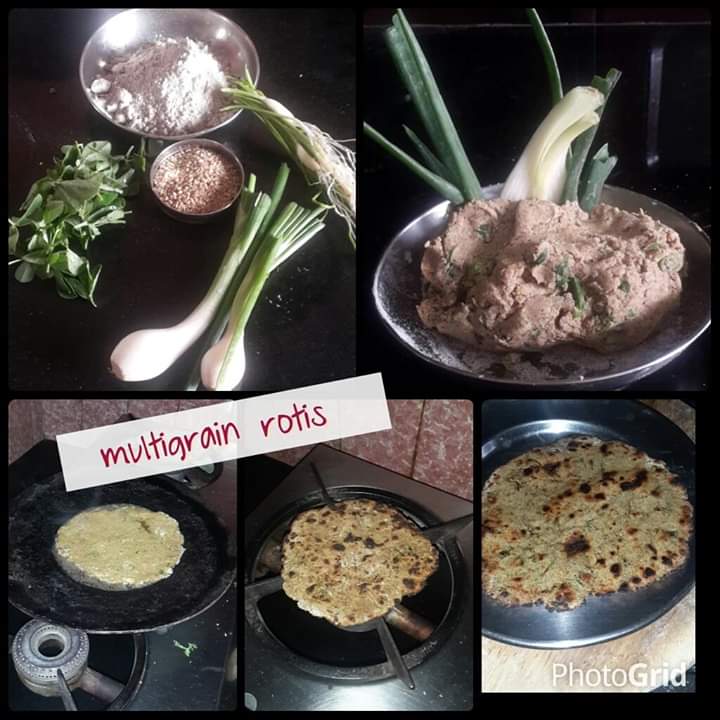 So here is Millet (🌾Multigrain) Rotis in making. …Add whatever green is at home like corriander, spinach, Methi, spring onions etc.
Nachni flour -1cup
Bajra flour -1 cup
Jav (barley) flour -1/2 cup
Corriender leaves a few strands
Spring onions a few
Methi leaves a few or any greens available
Green garlic -4-5 strands
Green chilies – 2-3
Kasuri methi – 1tbsp
Til – 1tsp
Saunf – 1tsp
Salt as per taste
Ghee / Oil– 2-3 tbsp
Water as required for kneading
Method
🌱In a bowl, mix together nachni, Bajra, jav, salt, kasuri methi, til and Saunf.
🌱Add all the green ie corriander leaves, methi leaves, green garlic, spring onions, chillies. Mix well till it blends with the flour mixture.
🌱Add water and knead it into a smooth dough. Cover and keep aside for 15-20 minutes or you can directly roll them into rotis.
🌱Divide dough into 3-4equal parts. Shape them into a smooth ball.
🌱Roll dough ball into medium thickness roti or circle about (5-6" diameter)
🌱Heat nonstick tava or griddle, drizzle ghee. Spread evenly all over on its surface with rubber spatula.
🌱Place paratha on it. Let it cook till bubbles appear on the top. Cook over medium low flame.
#ironrich
#coriander #methi #springonions #dashofsesameseeds
#shilpsnutrilife #eathealthy #eatright #calcium #highfibre