Practice Gorilla tactics while eating out
Make sure that you don't arrive at your dinner function starved. This will likely lead you to pig out on the most dangerous of festive snacks. Have a healthy (fibre-rich) snack before you go out to help curb your cravings…..like gorillas…want to know how.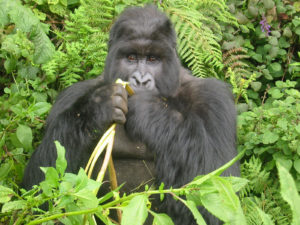 Humans and gorillas share nearly identical DNA and digestive systems. Pound for pound, the gorilla is one of the strongest and longest living animals on the planet. Gorillas eat mainly, fruits, vegetation, grains, nuts and seeds. An adult Grauer's gorilla male is estimated to eat 30 kg of plants every day, an adult female about 18 kg. Out of which more then 70% is fruits and vegetables.
Think about how Gorillas live and "train". Unlimited fruits and veggies, constant pulling, pushing of their own bodyweight and of course, wrestling one another.
So Fibre is the key….through grains,  pulses, nuts, seeds, fruits and vegetables.