Carrots – The Power Crunch
Carrots are one of the most popular, versatile vegetables in the world. They can be eaten raw, cooked or juiced.There are more than 100 species of carrots.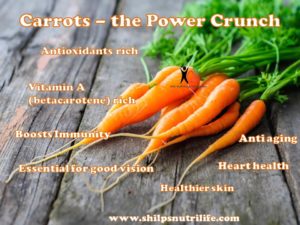 Some are big, some are small, and they come in a variety of colors including: orange, purple, white, yellow and red.
While carrots are known for their signature orange color, Carrots get their color from antioxidants called carotenoids. One of these carotenoids is beta carotene, a precursor to active vitamin A that is responsible for many of the carrot benefits that we know about today.
Many studies have shown that beta carotene is crucial for improving immunity in the body, protecting skin and eye health, and fighting free radical damage that can cause various forms of chronic diseases like cancer and heart disease. (1)
The nutrition in carrots are bound to the cell wall "matrix" of the vegetables that have to be broken by heat (cooking) or mechanical action (grinding, juicing, proper chewing).
Cooking the carrots in fat, oils or pureeing, juicing them increases the availability of carotenoids.
Fats help the absorption of carotenoids into the blood as carotenoids are fat soluble.