Fresh Green Chickpeas (Hara Channa) culinary uses
Fresh green chickpeas are the winter food that tastes super good, Popular seasonal treat of India.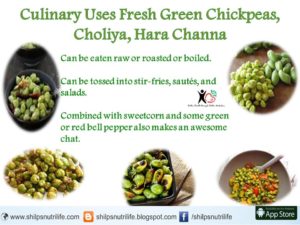 Culinary Uses
· Hara Chana is best eaten raw or roasted or boiled.
· Sauté some in olive oil, which softened them, put sea salt on them, and enjoy the taste.
· Can be tossed into stir-fries, sautés, and salads.
· Combined with sweetcorn and some green or red bell pepper also makes an awesome chat.
So What are you waiting for go have a cup of fresh hara channa today…..
##