Grapes health benefits
It may surprise you to hear that the humble grape is actually considered to be a berry.
The average serving size for grapes is about one cup, or 32 grapes. As a useful measure, you can use the size of your fist to estimate the proper portion size for grapes.
Grapes are high in water content and good for hydration. Grapes are high in antioxidants
Cancer: Grapes contain powerful antioxidants known as polyphenols, The resveratrol found in red wine famous for heart health is a type of polyphenol found in the skins of red grapes.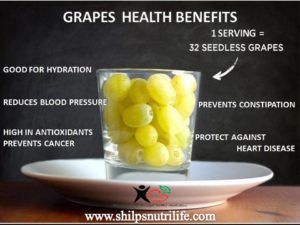 Heart Disease: The flavonoid quercetin is a natural anti-inflammatory that appears to reduce the risk of atherosclerosis and protect against the damage caused by low-density lipoprotein (LDL) cholesterol in animal studies.
The high polyphenol content in grapes may also reduce the risk of cardiovascular disease (CVD) by preventing platelet build-up and reducing blood pressure via anti-inflammatory mechanisms.
High blood pressure
Because of their high potassium content, grapes are recommended to those with high blood pressure to help negate the effects of sodium in the body.
Constipation the high water and fibre content of grapes helps in constipation.