Health retreat – Recreate yourself
A health retreat designed to help you stay healthy and fit throughout your life using simple ways focusing on your needs and goals. Guided by health and wellness experts, this health retreat aims to help individuals to lead a healthy life.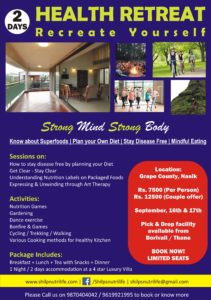 About the destination
At an Eco Driven Destination spread across 100 acres of lush green foliage and home to more than 100 species of flora and fauna, Grape County is located in Nashik, Maharashtra Adhering to environmental guidelines and green practices, from recycled furniture to local farm produce to pollution free zones, enjoy organic lifestyle amidst miles of green grandeur.
Activities included
Know about superfoods and its application in daily diet.
Plan your own diet
Understanding food labels
Cooking demonstration
Mindful eating
A visit to organic garden
Destressing through Art and dance therapy
Clearing taking you close to yourself
Yoga, meditation, exercise
Games
Trekking
Kayaking
Cycling
Conducted by
Shilpsnutrilife – Diet and lifestyle makeover, Founder Mrs.Shilpa Mittal, practicing Nutritionist and Diet consultant. Shilpsnutrilife is involved in one to one diet consultation,  also conducts theme based health camps,  nutritional educational seminars and workshops in schools and corporate.
Experts
Mrs.Shilpa Mittal,
Masters in Food Science and Nutrition ,holds a merit rank position, skilled professional with more than 18 years of broad experience in all aspects of Nutritional counseling.
Mrs.Riddhi Doshi Patel
Performance Skills Trainer & Behavioral Coach
Practising Child Psychologist and an Expressive Art Therapist
Mrs.Kinnari Rokadiya
Consultant of Personal and Space Clearing,
She represents the Clearing work of Eric Dowsett in India and is a part of the world Clearing Community.
Mrs.Trupti valotia 
Health and mind connection
Heal your life.
Affirmation for Health, wealth & Happiness.
Mrs.Sheetal Dalvi
Yog teacher QCI level 2 certified. Sent to Indonesia for IDY 2016 (International Day of Yoga) celebration by ICCR Delhi.
Nutri-meals
Meals right from detox drinks to breakfast, morning tea, lunch, afternoon tea, snack and dinner all balanced healthy meals planned by our Nutritionist.
Also you will get a chance to create your own meal.
This is your chance to reclaim your healthy connection to food. It will help you reconnect with the healthy foods your body recognizes, and truly loves. You'll enjoy deliberate, beautiful, high-energy meals. You'll hear from experts on de-stressing and mindfulness, on creating habits that serve you good health, learning how vibrant health can be second nature,
And you'll carry with you to-do plan for sustaining your changes as you re-enter your busy "real world."
Note-  Pick up and drop facility available
Investment Rs12000/- per person
To know more or book call  09870404042 or 09619921995
Restore the much needed balance in your life… quickly!
Recharge your mind and body at this lush, elegant and serene hideout, lets make it an experience to remember